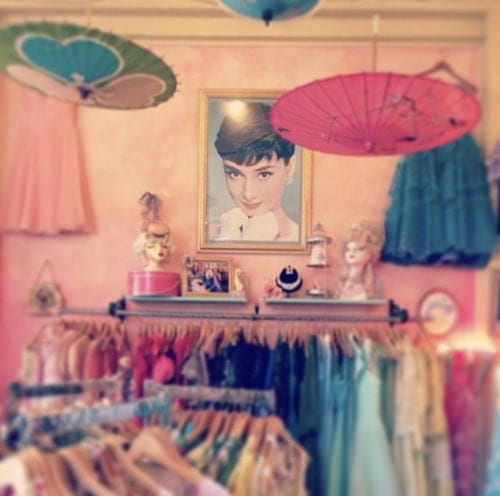 Step into our award-winning wonderland and luxuriate in a truly unique experience. A party for the senses, Pretty Parlor is a destination for lovers of vintage fashion, our calling since we opened in 2001. Within our swanky walls, you'll find an alluring array of both new and once-loved clothing and accessories representing the 1920s through the 1990s. Alongside true classics, explore retro-inspired frocks in sizes petite to voluptuous, picks from a coterie of local designers, and an atelier for the bride-to-be. Our web shop is just a smidge of what we carry in our Seattle boutique, so take a browse. Then pretty please, come in for a delectable dose of nostalgia ~ and stay for the fabulous shopping. 
Welcome to enjoy our world
Established in 2001, Pretty Parlor is an award-winning destination boutique curating unique new & vintage clothing. Owner Anna "Banana" Lange has a knack for collecting fabulous and flattering ready to wear fashions. We strive to help our clients feel and look marvelous no matter their shape or size. On our website, you will find just a smidge of what we carry in our Seattle shop, and we are doing our very best to add more and more. Pretty please visit our Etsy site to shop our exquisite selection of true vintage frocks. And stop by the Parlor if you're in the area.
Pretty Parlor's Collection of
Reversible Face Masks
Free Shipping On All Masks
Pretty Parlor Bridal Boutique